I had a nice email from Anuj Agarwal (the founder of Feedspot) recently to say that P2PBlog.co.uk had been included in their list of the top 100 Peer to Peer Lending blogs. At first I thought… how did they find 100 Peer to Peer Lending blogs?
This is the first sort of third party recognition of the blog so far, so it was a pleasant surprise to be included (at 15th place).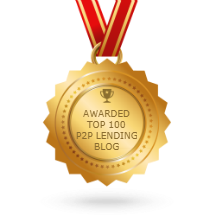 You can view the full list here: blog.feedspot.com/p2p_lending_blogs – some of these (like p2p-banking.com and altfi.com) are already quite well known among people with a keen interest in P2P lending but further down the list there are some less well known blogs too. Anuj told me they update the list every couple of weeks with the latest data (partially based on google reputation, social influence, posts and a judgement from the Feedspot team).
P2PBlog Updates
You might have noticed that the posts have been a little less frequent on the blog. I've been focusing more of my time on the P2x.co.uk comparison tool for the time being. I've rewritten some of the code to be easier to maintain and included very basic reports on all 65 UK P2P lending platforms and am slowly filling this out with more data. I have a few posts half written on here too and just waiting for some responses.